12-Inch Lace Wig: New Hair Trend To Adopt With Confidence
The captivating design of the 12-inch wig has captured the hearts of many and become a must-have hair accessory in today's fashion trends. With its simplicity, elegance, and practicality, this hairstyle possesses the power to transform you into an irresistible goddess. However, without knowledge of its benefits, it may be overlooked. Finding the perfect wig to enhance one's beauty and elevate their appearance can be a challenge, as there are numerous trendy models available on the market. To assist in this endeavor and ensure a red-carpet-worthy look, we present a guide to the 12-inch lace wig, outlining its advantages and features.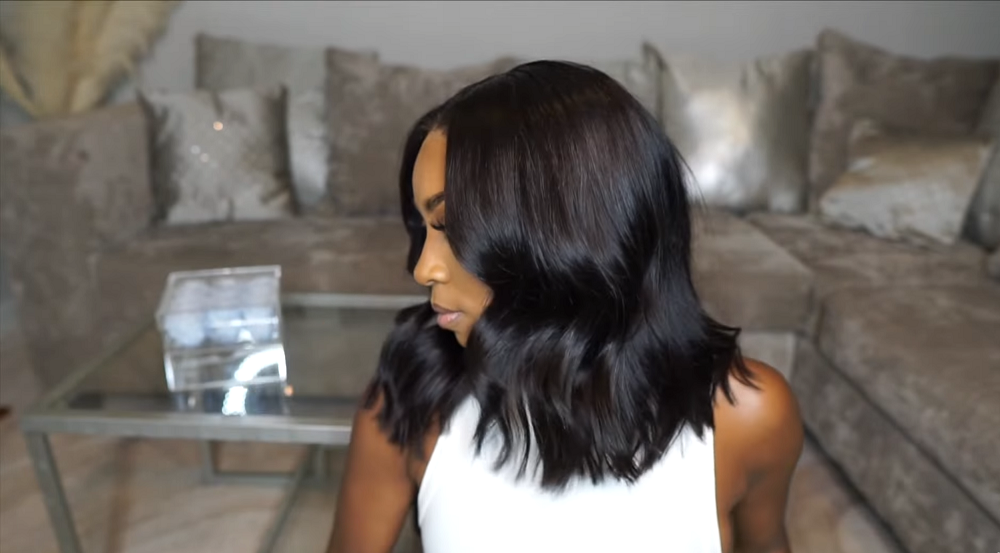 The Trend of 12-Inch Wigs
The 12-inch wig has made a notable resurgence in the latest hair trend, thanks to its simplicity and convenience. Modern women are striving for natural and unrestricted movements, which has led to a shift away from complicated routines and difficult styles. Consequently, overly long hair is no longer a feasible option for everyone and has become a marker of distinction.
Lace wigs have become an indispensable accessory for women seeking to quickly change their hairstyle or give their look a fresh twist. This has resulted in wigs being favored by both professional and trendy women who desire to remain comfortable and unrestricted in their various daily activities.
To meet the demands of these women, medium-length hair wigs have become the preferred choice, with the 12-inch lace wig being the most popular. Wearing a 12-inch wig provides protection from the heat and damage that hair can be subjected to while allowing for freedom of movement.
As a timeless hairstyle, the 12-inch wig has been a favorite of women for years and is currently in vogue, alongside the always fashionable bob haircut. At HonestHairFactory.Com, we offer a variety of 12-inch wigs that cater to all your desires. To delve deeper into what makes this highly appreciated hairstyle so special, let's explore its features.
What Makes The 12-Inch Lace Wig Special?
The 12-inch long lace wig is a popular hairstyle renewed with ultra-modern technology. It is a hairstyle with slightly longer hair than mid-length wigs. With an elegant design, when you wear it, the length delicately touches your shoulders.
The others reach the top of your back, leaving your final shade to display your feminine personality. But regardless of the length of the hairstyle, the 12-inch long hair will be directly in the middle. That's why it's a perfect choice for all girls and women who love original and natural medium-length haircuts.
In addition, the 12-inch lace wig generally excludes certain style options. You won't see styles showing widow's peaks, natural hairlines, and baby hair. This is what makes it simple to install and very practical to use.
It is very undetectable and its wearing does not harm natural hair. Similarly, it does not damage your scalp if applied correctly and with care. It is lighter and more comfortable thanks to its incredibly natural transparent lace and adheres completely to your skin.
It looks like the hair is coming out of your head. It is made of a stretchable and adjustable cap with straps to fit most head sizes. The wig also features an elastic band and the length of the piece is 10 cm.
The choice is yours, and here are the advantages of wearing a 12-inch wig. Now that you know these features, discover in the following section the benefits of this hairstyle.
Advantages Of Choosing The 12-Inch Wigs
The 12-inch wig is a perfect hair solution to radically change your look quickly, easily, and safely. Both practical and very fashionable, it is a hairstyle that is becoming increasingly popular among young girls and women in general.
You can find it everywhere and on all heads at the moment because this wig has all its charm. It perfectly fits the shape of your face to give a natural and ultra-glamorous look. The hair also perfectly reveals your neck and highlights the angles of your face wonderfully.
The 12-inch lace wig is made of 100% natural human hair. This allows you to benefit from high-quality hair. It is also an extremely strong hairstyle and very easy to maintain. And of course, to meet all your desires in any way, you must choose the 12-inch wig hairstyle.
This lace wig is designed to save you time and missed appointments with your hairdressers. An essential accessory to simplify your life and offer you a better user experience. With a natural color and different coloring options, it offers you a hairstyle that suits your face and an ultra-natural and professional result.
Different Types Of 12-Inch Lace Wigs
The 12-inch lace wig is an excellent way to change your look while protecting your natural hair. There are two different variants of this hairstyle, and we invite you to discover them so that you can choose the one that will be suitable for your silhouette:
12-Inch Straight Wigs
This model gives you the advantage of being discreet around your entourage. This straight lace wig is made for you, and thanks to its pre-plucking technique, it reproduces the structure of natural hair. If you want to keep a natural look, this natural straight hair will transform your face and give it a cheerful, natural, and beautiful appearance.
With voluminous hair, this type of wig is denser and has a full and thick appearance. The hair does not fall out or tangle. It is a healthy, odorless, neat, and durable style. Odorless because it is 100% straight without chemicals, it can only have a typical shampoo smell.
It protects your natural hair and makes it breathe because the elastic band bonnet allows the hair to breathe and protects it from contact with the head and is easy to wear. Heat resistant, the straight 12-inch wig offers comfort by preventing sweating.
12-Inch Curly Wigs
The 12-inch curly wig has a youthful and carefree spirit that many women find attractive. The voluminous appearance and bouncing spiral shapes emit an air of freedom and challenge. If that wasn't enough, curls can also make you look even younger.
It is no wonder that 12-inch hair is so trendy. Whether you are looking for long cascading curls on your shoulders, short and insolent waves, or something in between, you will find the curly hair wig that offers something more than anyone else.
So now you have become aware of the two types of 12-inch lace wigs. So make your choice based on your face and your fashion tastes. However, it is important to know where to find this hairstyle that can respect the quality and give the desired result!
For this, Honest Hair Factory, your trusted specialist, gives you the opportunity to easily obtain your 12-inch lace wig. You will find hairstyles that perfectly meet your expectations. The store offers impeccable hair products with very flexible delivery and return options. But once you have made your purchase, we invite you to read the following tips for maintaining your wig.
Hairstyles You Can Adopt With Your 12-Inch Wig
Without a doubt, the answer is yes. Designed this way, the 12-inch wig offers you several style options to allow you to appear more beautiful and dazzling. Indeed, it is versatile with a full lace that can be parted anywhere. Because it is made differently, which is not quite the case for front lace wigs.
Also, the lace of the 12-inch wig is accessible all around and you can adopt it in a high ponytail. This gives a more natural look.
So, during brushing, detangle the hair with a wide-tooth comb. Gather the hair and tie it with an elastic on the top of your head. Then, wrap a small section of hair around the elastic to achieve an aesthetic and natural effect. Then, you need to adopt the hairstyle that suits you.
You can decide to give your hair a slight wave-like wave for a slightly wild style. You will also have the option to make a bun or a half-bun and/or to make a low bun or a high bun to change your hairstyle or to adopt a more casual look. As you can see, there are many hairstyles to choose from and you have plenty of choices.
12-Inch Wig - Exceptional Hairstyle To Stay Chic Every Day
Do you want a perfect hairstyle for your silhouette and suitable for any occasion? Then, the 12-inch wig offers you all the opportunities. As you know, a woman's first impression of someone who knows nothing about her comes from the effect of her hair. Thus, the 12-inch wig offers you this strong influence and a phenomenon of love at first sight. With its silky hair, it is made not only to please but also to highlight you.
If you don't want to lose your femininity while looking for the perfect haircut to adopt, don't worry! This hairstyle has all the means to add a touch of femininity to your style. Give a romantic touch to your hairstyle by simply styling it for an ultra-feminine, more realistic, and excellent look.
Comfortable to wear, with a medium size, high-quality elastic mesh, adjustable straps, and combs inside to fit the size of your head. The 12-inch hair can help you be perfect for daily use, work, meetings, concerts, cosplay, various uses, or just to give another visual aspect.
You are one step away to access to our wholesale prices