How To Wash Your Synthetic Hairpiece & Bun - Washing Instructions For Synthetic Hair
Taking care of your synthetic hairpiece is the best way to ensure its long lifespan. Follow this synthetic hair washing step-by-step guide to keep your bun looking bouncy for everywhere!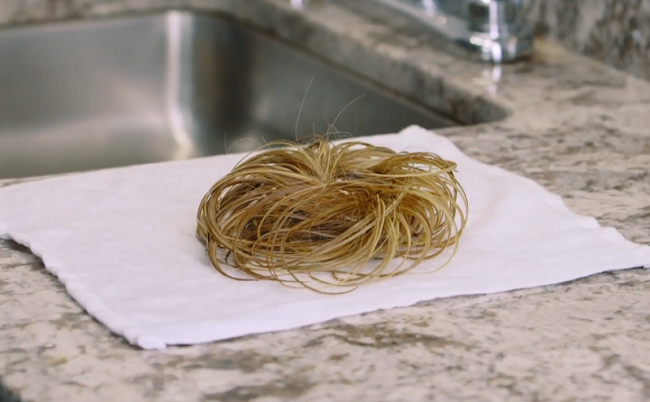 Steps To Wash A Synthetic Hair Bun
1. Take your synthetic hair bun and begin by detangling it gently with a wide tooth comb. If your hairpiece features a cloth clip, carefully remove it before detangling.
2. Once your bun is detangled, hold it by the band and rinse your piece in a downward motion using lukewarm water.
3. When your bun is fully saturated, take your shampoo, pour some in your hands and massage gently to loosen the product.
4. Next take your piece and massage shampoo gently into the strands in a downward motion.
5. Once you've finished, rinse your bun under lukewarm water in a downward motion. Rinse the shampoo out of the wig, then blot the wig gently with a towel. Do not squeeze or wring.
6. After you have washed your wig, you are ready to condition it. The wig should still be wet from washing. Apply a small amount of wig conditioner to your hands and rub together. Carefully work the conditioner through the hair, avoiding the cap. Thoroughly rinse the conditioner from the hair over cold running water.
7. Squeeze the strands to remove any excess water, make sure you do not ring the hair because it will cause the strands to tangle.
8. Next, lay your bun down on a towel and blot dry.
9. When all the excess water is removed, you can then spray your synthetic bun with a little styling product as required.
How To Style Your Synthetic Hair Piece
1. Shake and style with your fingers to achieve the desired look. We recommend a styling brush, styling comb or fingers to style.
2. Apply a light mist of leave-in conditioner + detangler to difficult tangles if needed.
3. Heat-friendly synthetic fiber can be curled, blow dried or flat ironed to achieve a different hairstyle.
4. Heat-friendly synthetic fiber can withstand heat up to 350°F/180°C. We recommend a low-medium setting.
5. To straighten, take a 1-inch section starting at the roots and run a flat iron to the ends.
6. Wrap the hair around a curling iron and hold it there for 10 seconds to create curls in the hair Carefully remove the curling iron and pin it to the hair. For as long as the fiber is cooled completely, it will retain its curl.
7. Apply a hairspray (for synthetic hair) to the final styled product, if necessary.
Is Conditioning Really That Important?
Yes, it is. Natural hair/human hair wigs and synthetic hair are two different things. There is no method to retain moisture in synthetic hair fibers. It's important to apply a conditioner to maintain it soft and supple, and a leave-in conditioner spray is ideal. If you don't use conditioner, your hair feels dry and crunchy. As a result, the hair becomes tangled and difficult to remove with a brush or comb.
Additionally, UV protection may be included in some leave-in conditioners for synthetic hair to help keep the color consistent. The travel-sized bottles make it convenient to spritz a little product through your hair on-the-go.
You are one step away to access to our wholesale prices