What Are Best Wigs for Men - What Kind of Wig Will Become a Man's Favorite
In the long course of history, wigs have experienced many popularity and decline. Today, with more and more people losing their hair, wigs have come back into the public's view and become the darling of the fashion industry. Many Hollywood movie stars are fans of wigs, with hundreds of different shapes and hair colors. Either to match a dress, or to attend a party, or to show your personality.
With people's attitude towards wearing wigs gradually released, wigs have gradually become another kind of accessories worn by human beings. It makes people's modelling become diverse, and is no longer limited to their original hair. In daily life, women wear wigs more often. However, once bald, wigs become the best partner for men because they can help them improve their image. So what kind of wig will become a man's favorite?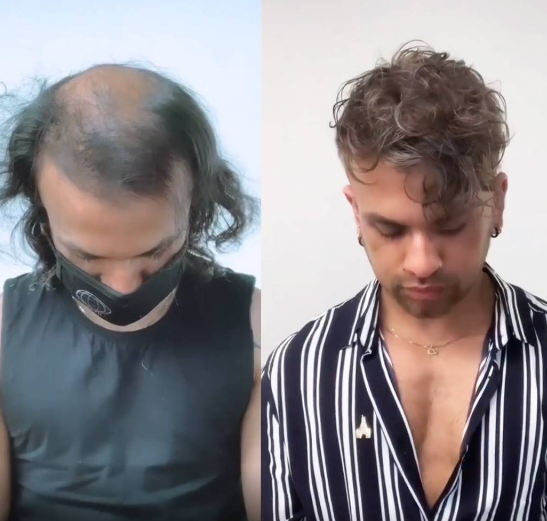 What Are Best Wigs for Men
1. Lifelike nature
For those who wear wigs, if they are too fake to be seen, it is better not to wear them. But if the scalp and hairline look very natural, then even wearing a wig will not be noticed, which is the most popular thing. And the lace front hairline and Mono top give people a very realistic feeling.
At the same time, if you want your wig to look more natural, you should check whether it matches you according to the color of your wig. The most important point is the color of your eyebrows. The color close to your eyebrows is more natural.
Another key point is the color of the wig root. If the root node is too obvious, it will make the scalp color unnatural. It is better to bleach. However, if the wig is crocheted with V-needle or needle, it is as natural as if it grows from the scalp.
2. Firm and easy to take off
Many people will become nervous, anxious, and even desperate after they find their hair loss. Want to wear a wig, but worry about various problems. What should I do if I don't stick it firmly when I go out? What if it is blown away by the wind? But if it is too tight, will it hurt to take it off?. Considering these problems, the interest in wearing wigs also declined.
In fact, the firmness of the wig has been verified by many people. As long as it is worn in the correct way, it is very firm. Even riding a bike or roller coaster in windy weather is no problem. You can also take a bath, exercise, swim, etc. with a wig, without affecting your normal life.
As for the fear of pain when you take it off? When the wig is taken off, it can not be pulled by force. It will not only make your scalp ache, but also easily lead to tearing the bottom of the wig mesh. In fact, the wig has a gel remover. You can easily take it off by gently spraying the gel on the wig.
3. Habits
The above problems have been solved, and the last problem is the problem of habit. Many people are not used to wearing wigs at first. So how can we better adapt to our new face? Try to wear it at home and in front of acquaintances, not only to adapt yourself, but also to gradually adapt your relatives and friends. After you gradually accept your hair, you can go out easily.
You are one step away to access to our wholesale prices